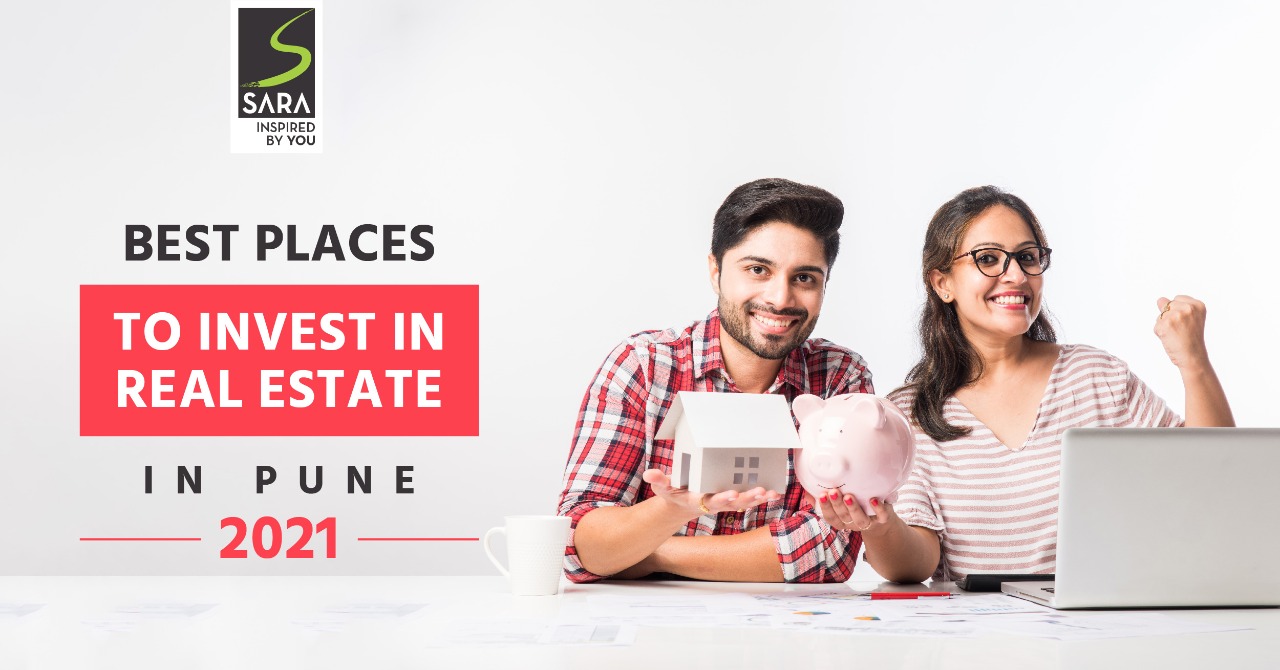 Top Localities to Invest in Pune
Pune has experienced tremendous growth in the real estate industry in the past few years. Even with Mumbai in close proximity, Pune has a steady demand for real estate. One of the main reasons is because Pune has properties that offer value for money unlike Mumbai where the prices are relatively high for a premium space.
In recent years, Pune has become a favourable real estate investment destination for Pune based home owners as well as non-Pune residents.
If you're planning to invest in a property this year, we've rounded up the best places we could think of, with extra research, so you don't have to.
Best Areas to Invest in Real Estate in Pune 2021
The real estate in Pune had come to an absolute pause in the last year. With the economy coming up, slowly but steadily, now is a good time to rethink your investments and choose the perfect area for your next house.
Here are the top 15 areas to invest in real estate Pune in 2021:
1) For New Home Buyers & Investors
Pune features on the list of smart cities published by the Government of India and is the perfect destination for new home buyers or investors to think of while buying property next.
We've come up with top 5 popular areas in Pune for new home buyers & investors:
1. Kalyani Nagar
Termed as one of the most upmarket residential property destinations in Pune, Kalyani Nagar is located on the eastern corridors of Pune and is an emerging real estate destination in today's date and age. The smooth connectivity to nearby areas like Viman Nagar and Koregaon Park is one of the reasons for its rise in demand lately. The construction of the Kalyani Nagar-Koregaon Park bridge has made travelling more of an adventurous experience than a monotonous daily routine.
Average price: Rs 9000 per sqft
Why You Should Invest in Kaylani Nagar:
Let us tell you a few reasons as to why Kalyani Nagar can be the perfect area for you and your family.
Smooth connectivity and availability of amenities in close proximity.
Luxurious constructions leading to a luxurious lifestyle.
It is at a distance of 5 km from Pune Junction railway station and 4 km from the Pune Airport.
The passing of Pune metro through Kalyani Nagar will increase its demand even furthermore. It is an apt time to invest here now!
2. Pimpri Chinchwad
There was a time when Pimpri Chinchwad was considered a rural area and the thought of owning property there was considered as a baseless investment. Fast forward to today, Pimpri Chinchwad has flourished into a premier real estate destination. With frequent and regular bus coordination, travelling to and fro from the area is an easy feat.
Pimpri has alternatives for all strata of society and comprises properties of varied types. From lands to flats, you can have your pick when it comes to finding a suitable solution to your demands.
Average price: Rs 6000 per sqft
Why You Should Invest in Pimpri Chinchwad:
There are numerous reasons why you should invest in property at Pimpri Chinchwad.
We've rounded them up for you:
Community oriented real estate development resulting in a fruitful and productive life experience.
A wide range of employment t opportunities for every profession.
Seamless connectivity to all parts of Pune leading to a smooth travelling experience, even on a daily basis.
Some of the top-grade schools are located at Pimpri Chinchwad.
3. Karve Road / Erandwane
This area is home to the famous Film and Television Institute of India in addition to a number of schools, colleges and shopping malls and restaurants. Erandwane is considered as one of the most desirable areas to live in. Surrounded with plush greenery with a touch of the modern world, this location is ideal for families and individuals who want to invest in real estate in Pune for the first time.
Pimpri has alternatives for all strata of society and comprises properties of varied types. From lands to flats, you can have your pick when it comes to finding a suitable solution to your demands.
Average price: Rs 10,000 per sqft
Why Should You Invest in Erandwane?
Spacious housing options resulting in an easy and comfortable life.
Established infrastructure with maximum amenities in close proximity.
Various top-grade schools and colleges in the vicinity.
4. Koregaon Park
One of the most well-known areas in Pune, Koregaon Park offers it all, the fun and frolic with a sense of satisfaction and belonging in the second largest city of Maharashtra. With a strong connectivity, diverse leisure options and high-rise luxury properties, owning a property in Koregaon Park is a dream come true.
The prices have dropped down in the past 3 years and now would be the perfect time to think of Koregaon Park as your residential address.
Average price: Rs 12,000 per sqft
Why Should You Invest in Koregaon Park?
Here are a few reasons to invest in property at Koregaon Park in 2021:
The international airport and railway station are at a distance of 6 kms and 3 kms, respectively.
Famous names like German Bakery, Osho Ashram, Westin, Swig and Chabad House give Koregaon Park more points as compared to other localition
Koregaon Park is considered to be one of the posh localities of Pune.
5. Boat Club Road
Boat Club Road holds the most luxurious neighbourhood one could find in the city. If the idea of a lake close by enchants you, Boat Club Road is the place for you and your family. Most of the amenities are available at a 2 km radius, including the renowned Royal Connaught Boat Club.
Since the area is quite small as compared to other prominent localities of Pune, you get to experience a well-built community where bonds are formed for life.
Average price: Rs 12,000 per sqft
Why Should You Invest in Boat Club Road?
Boat Club Road is famous among Pune residents as well as among residents of other cities. Here are a few reasons why you should invest in a property at Boat Club Road.
The location offers a world class 5-star experience with the existence of Ishanya Mall, Pune Central Mall, Touche (ranked 1st in the list of spas and wellness centres in Pune) and Hotel Conrad in close proximity.
With tree lined streets and greenery around, the area gives off the feel of a hill station but with the additional advantages of the city.
2) For IT professionals
Pune has come to be known as the engineering and automobile hub of western India with famous leading IT centres laid across huge software parks all over the city. According to the Software Technology Parks of India (STPI), Pune has surpassed Mumbai with an increase in the software exports by 48%.
The younger as well as the experienced crowd of the IT industry has started viewing Pune as an ideal location to move to for a step up in their career.
We've rounded up the top 5 places you can reside in if you plan to move to Pune.
1. Wagholi
Wagholi is located on the eastern periphery of Pune and has emerged as one of the most demanded areas as well as one of the most important suburbs of Pune. Located on the Nagar Road, it has easy access to the existing and upcoming commercial establishments in Kharadi, Hadapsar and Bund Garden.
Local industries mostly dominated the area but in the past one to two years, with the construction of residential projects, the area is gaining popularity as a residential area of note.
The up-and-coming eastern hubs are located at a close distance from Wagholi and traveling to work will not be a struggle any more.
Average price: Rs 4,500 per sqft
Why You Should Invest in Wagholi?
Excellent connectivity from home to work as well as places for leisure and fun. Weekends can be spent away from the hustle and bustle of the city in the quiet of nature.
With the growth in the IT sector in Pune, major IT companies set their base on the outskirts of the city. Wagholi is the perfect place to invest in for an easy commute to and fro from work.
With properties at affordable rates, bachelors can have the added advantage of increasing their savings all the while living a rich and content life.
2. Hinjewadi
Hinjewadi is that suburb which is a rapidly growing locality, not only in the city but in the entire country. It is generally called as the economic hub of Pune and investing in property there right now would be a perfect opportunity to increase your income as well as an ideal place to build a life for you and your family.
Hinjewadi is famous for the Rajiv Gandhi Infotech Park which consists of various IT firms and is source of income for more than 70000 people in the world.
Average price: Rs 6,000 per sqft
Why You Should Invest in Hinjewadi?
Many areas in the city have shown a significant increase in demand for commercial as well as residential properties, but Hinjewadi tops the list there.
Let us tell you a few reasons why you should purchase property in Hinjewadi:
As mentioned above, Rajiv Gandhi IT Park is at a close proximity and the commute will be a stress free and easy one.
Most of the restaurants, shopping malls and theatres are close to the residential projects as well as the IT hub. You can have the best of both worlds at Hinjewadi.
Save yourself from driving a hole in your wallet with affordable housing alternatives.
3. Charoli
Charoli is located roughly 22 kms away from Pune via the Alandi road and is around 6 kms away from the international airport. The area's main advantage is the distance from Charoli to Pune's IT hub Kalyani Nagar, which is less than 10 kms. Experience an easy and smooth commute to your workplace from Charoli.
One of the benefits of investing in property at Charoli is the proposed 170km Ring Road around Pune and PimpriChinchwad resulting in a decrease in the congestion of traffic and better access to fastest growing areas.
Average price: Rs 5,290 per sqft
Why You Should Invest in Charoli?
Apart from the construction of Ring Road and its benefits, here are a few more reasons why you should invest in a property at Charoli:
Lower purchase rates as compared to other localities in Pune. This is because it is an upcoming area with many infrastructure facilities still in the process of being developed.
There is expected to be a high demand for residential property in the coming years because of the large-scale infrastructure development.
Easy commute to work leading to more productivity and efficiency.
4. Hadapsar
Hadapsar is conveniently placed on Pune-Solapur highway and is closely connected to the old central business districts as well as the Nagar road and is about 5 kms from Magarpatta housing over 21 IT companies including IBM and Info City. Hadapsar has proven to reach its true potential for development in the past few years. The model laid down for Hadapsar has been well planned and smartly implemented.
Average price: Rs 6,000 per sqft
Why You Should Invest in Hadapsar?
Here are a few reasons as to why Hadapsar should be your ideal location if you plan on shifting to Pune for a career change.
Hadapsar is home to 3 Special Economic Zones(SEZs), Phursungi IT Park, Magarpatta City and Amanora Park town.
The social infrastructure is well developed and up to the mark with schools, hospitals and malls in close proximity.
Hadapsar is seamlessly connected to the city's other prime areas, Kalyani Nagar, Camo and Koregaon Park.
With the city's prime locations at a close proximity, residents of Pune can conveniently enjoy the luxuries these locations provide without creating a dent in their bank account.
5. Wakad
The main reason for Wakad developing into a residential locality was the influx of people coming in for employment in IT and manufacturing companies. Wakad is located in the developed PCMC area and is in close proximity to the Mumbai-Pune Expressway and the IT hub of Hinjewadi.
Average price: Rs 6,000 per sqft
Why You Should Invest in Wakad?
We've rounded up the basic reasons why you should invest in property at Wakad.
Rajiv Gandhi Infotech Park, DLF Akruti IT Park, International Tech Park, and Panchshil Tech Park, the thriving IT hubs, are in close proximity to Wakad.
Developed infrastructure with high tech amenities are all at a walking distance.
The excellent connectivity from Wakad to the prime and bubbling areas of Pune will ensure you reach from point A to B in no time without any stress.
3) For Second Home Buyers or Investors
It is without a doubt that there are financial benefits in buying a second property. They act as an investment and if purchased with thorough research, the property will be a wise financial move.
Doing your bit of research on real estate will go a long way in shortlisting the ideal location and property according to your needs. We've rounded up the top 5 locations you can opt for if Pune is the city of your choice.
1. Aundh
Pune is considered as the state's cultural capital and Aundh takes up the topmost position for residential and commercial segments for quite some time now. Aundh is the most sought-after location for the majority of Puneites after a rise in the demand for properties post the IT boom.
Average price: Rs 10,000 per sqft
Purchasing a second property, even as an investment, is a thought that needs complete research work. We've come up with 3 reasons as to why Aundh is a good option for you.
A perfect blend of nature with the hustle and bustle of a city, you can live the best of both worlds in Aundh.
You can expect a considerable amount on the return of investment since properties in Aundh have and always be in demand given the location.
Aundh is very well connected to various important parts of the city.
2. Kothrud
Kothrud is a sought-after location because of how convenient it is to travel to and from the city. Located in Pune's south west region, it is the fastest growing area in the city. Kothrud is home to majority of Maharshtrians and is the perfect place to settle down in post-retirement. The excellent connectivity with the growing IT sector in Pune has increased its demand over the years.
Average price: Rs 8,000 per sqft
We've rounded up 4 reasons as to why Kothrud should be at the top of your list of locations to buy property in Pune.
The smooth and effortless connectivity that Kothrud offers ensures that the transportation needs of the residents are satisfied.
Kothrud is an excellently planned and well-maintained pollution free area.
Kothrud has been mentioned in the Guiness Book of World Records for being named as one of the fastest-developing suburbs in Asia.
Kothrud is located between the city's two biggest roads, Paud road and Karve road.
3. Viman Nagar
One of the rapidly developing suburban areas of Pune, Viman Nagar is known to be the area for the elite. The name, Viman Nagar, has been derived due to the presence of the air force station in the locality. The airport lies at a close proximity increasing the demands for properties at this location.
Around two decades ago, visiting Viman Nagar felt like taking a trip out of the city. But over the past few years, the area has undergone significant development with excellent connectivity to other parts of the city.
Average price: Rs 8,000 per sqft
Here are a few reasons to invest in property at Viman Nagar.
Viman Nagar has Pune's best malls, shopping centres, educational institutes and hospitals, all in close proximity.
The 170 cm ring road that will encircle Pune and PimpriChinchwad will be an advantage to the Nagar road belt due to its proximity.
Koregaon Park and Kalyani Nagar, two prominent locations of Pune are less than 15 minutes away.
Viman Nagar is said to be one of the best places for a person's investment as a growing infrastructure.
4. Baner
Baner has flourished as a highly sought location for investment in the last few years.You can expect to find various housing options within different budget ranges here. Locations like Aundh and SenapatiBapat road lie in close proximity to Baner. The area offers excellent connectivity to roads like the Expressway and Mumbai-Bengaluru highway.
Average price: Rs 8,000 per sqft
If investing in Pune is on your list in the coming year, Baner is a good option for you to choose. Let us tell you why.
With the IT hub in close proximity, the IT professionals prefer choosing to rent a space in Baner. Investing in property here will yield a good return of investment.
The area's rapid development will lead to an increase in the property value down the line, so investing in it right now will be a good choice.
The projects developed here offer budget,premium and luxury properties.
5. Chakan
Chakan was recognized as an industrial corridor of Pune but over the past few years with the rise of people migrating down to Pune, it has turned into a residential market. Chakan also has top grade educational institutes like the Vidya Valley International School, PK International School, and AMS School. It is also one of the biggest automobile hubs of Pune. The prime location of Chakan ensures you experience smooth connectivity via the Talegaon-Chakan Road and Chakan-Shikrapur Road that runs through the area.
Average price: Rs 8,000 per sqft
There are quite a few reasons as to why Chakan is a good investment area for you and your family. Some of them are:
Due to seamless connectivity in and out, Chakan has turned out to be a preferred area of investment for second home buyers.
Huge growth and manufacturing companies plan to set up their factories in Chakan, the number of professionals shifting to the area will increase threefold. Renting out your second property will yield a good amount of rent monthly.
Chakan lies in the list of affordable areas in Pune. The price range is perfect for people who are looking for properties as an investment or monthly income post retirement.
Related Blog: City Plaza (Future of Chakan): Real Estate Investment Opportunities in Pune
Is Real Estate a Good Investment in Pune?
Every individual, today, is trying to secure their future and multiply their savings and wealth with some form of investments. Real estate is your go to-choice for ensuring you have a backup to rely on in times of need. Real estate is the second highest employment generator in the country after agriculture. This itself is a good enough reason for you to start planning your real estate investments in 2021.
Here are a few pointers as to why you should invest in real estate:
There is a considerable increase in the appreciation rate due to junior, mid and senior level IT employees moving to Pune because of the introduction of IT hubs in the city.
Pune is all set to receive a major transformation with the construction of projects such as Pune Ring Road, Bus Rapid Transit System (BRTS) on the Pune – Mumbai Highway, and the most prestigious- Metro Project connecting PCMC – Swargate, Vanaz – Ramwadi, and Hinjewadi – Civil Court.
Pune has started attracting a lot of job seekers due to the IT hub and the automotive industry set here. Your home investment in Pune will definitely bring you a good second income from rentals.
The weather and greenery of Pune is the cherry on the cake here. Pune is known for a pleasant climate as compared to Mumbai and most other cities in the country. The green covered mountains surrounding the city add a sense of belonging in this world.
To sum it up, start planning and taking the appropriate actions to invest in property in Pune. We assure you there will be no regrets.
"Give your dream home a destination in Pune!"
Beautiful homes at Sara City waiting to give flight to beautiful life journeys.
Click to know more:Sara City Chakan - 1 RK, 1 BHK, 2 BHK Flat in Chakan, Pune