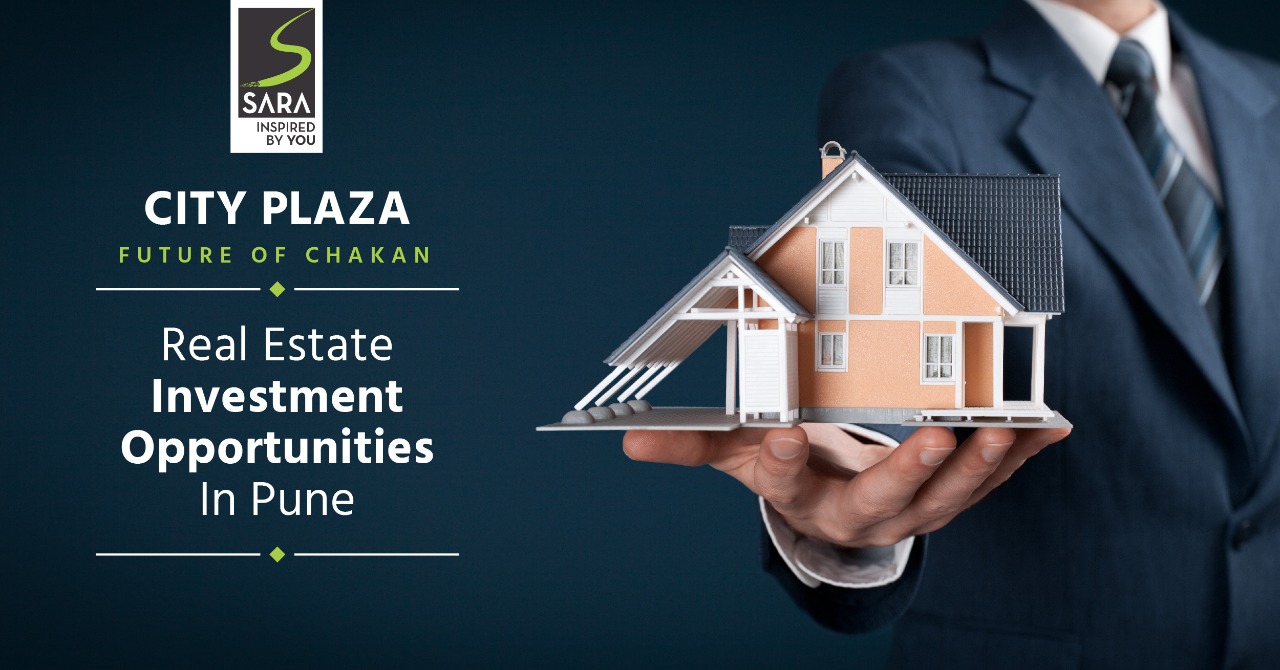 Real Estate Investment Opportunities in Pune
The type of questions that usually pop up in a person's head before investing in property is, "What is the return of investment?", "Am I making the right decision?", "Will this investment turn out to be a good choice?" Fear not, this blog has you covered.
When it comes to investments in the real estate sector, thorough research is needed to come up with a final decision and this blog will ease your tensions and give you a clearer idea about opportunities in this sector.
In the recent years, Pune has become a prime real estate investment destination for Pune as well as non-Pune residents. The real estate sector here is stable and quite promising as compared to Mumbai or other cities of Maharashtra. Hence Pune stands at the top of the list when it comes to budding real estate destinations in 2021.
City Plaza (Future of Chakan): Project Overview
City Plaza is situated at Sara City - Mercedes Link Road and lies in close proximity to Pune-Nashik Highway, Talegaon and Ahmednagar. A lavish project under the Sara Builders legacy, City Plaza stands tall and proud amidst the hustle and bustle of Chakan. It has been called the Future of Chakan because this commercial project will attract attention to Chakan and put it on the radar as a forthcoming real estate destination.
Commercial projects help build a community. They not only act as sources of entertainment but also bring about job opportunities for individuals living in the vicinity. City Plaza is proudly the future since it embodies the opportunities that will arise in Chakan post the inauguration of the building.
The first business hub in Chakan, City Plaza will provide state of the art amenities, vast outdoor space, excellent security measures, heighted roofs and elegant designs you are bound to fall in love with at first sight.
City Plaza Chakan: Amenity and Specifications List
One of the first points that attract investors is the amenities present in the project they are putting their hard-earned money into. City Plaza will surprise you with the exceptional facilities the project provides.
We've rounded up a list of the facilities we'd like to talk about with the commencement of City Plaza.
1. 65ft Wide Entrance
The wide entrance allows more space for a large number of people to move around without it giving any claustrophobic vibes.
2. Dedicated Drop-Off Zone
A dedicated pick up and drop off point ensures stress free traveling for the customers resulting in a leisurely outing without any hassle.
3. High-Speed Elevators
High speed elevators ensure high speed safety.
DG Power Backup for lifts, lights and common areas, Any power outage in a commercial project reduces its popularity. City Plaza has ensured to have a power backup worth lighting the lifts, lights and common areas so the crowd does not feel like they are missing out on any fun throughout their visit to the shopping complex.
Dedicated signage space for every unit customised graphic displays intended to convey information to an audience is dedicated to every unit so the customers know the exact type of services they provide.
City Plaza Chakan: Project USP's
A Unique Selling Proposition (USP), differentiates a particular product or service from its competitors. It is the USP of a brand that makes it stand apart from the prevailing competition in the market.
City Plaza's USP's that give it an elite advantage over other projects are:
Road touch project in the heart of Chakan.
First business hub in the vicinity.
Located next to Sara City with 2,000+ families residing and another 7,000 homes in the pipeline.
Why Invest in City Plaza Chakan?
The sole reason to invest in City Plaza is that it is the future of commercialisation in Chakan. Imagine having the added advantage of owning a business in an industrial area with no other commercial projects in close proximity. With a decent number of residential projects in the area, City Plaza is sure to be brimming with customers all day long.
An investment is long term, one has to think of the benefits it will provide for years to come. Putting your money in the right project is not as easy as it can look. But when it is an investment with maximum benefits, high ROI, the advantage of being a monopoly with maximum power, you are surely making the right investment.
Summary
To summarize, this blog must have given you an idea of the pros and cons of investing in City Plaza at Chakan.
The benefits of investing in City Plaza are limitless. Having an additional income, popularising your craft, making sure it reaches the target audience and healthy long-term returns ensure you stay on track with your investments.
They say you should not put all your eggs in one basket but when it is a project as tempting as City Plaza this is where all your eggs ought to be. Click to know more.