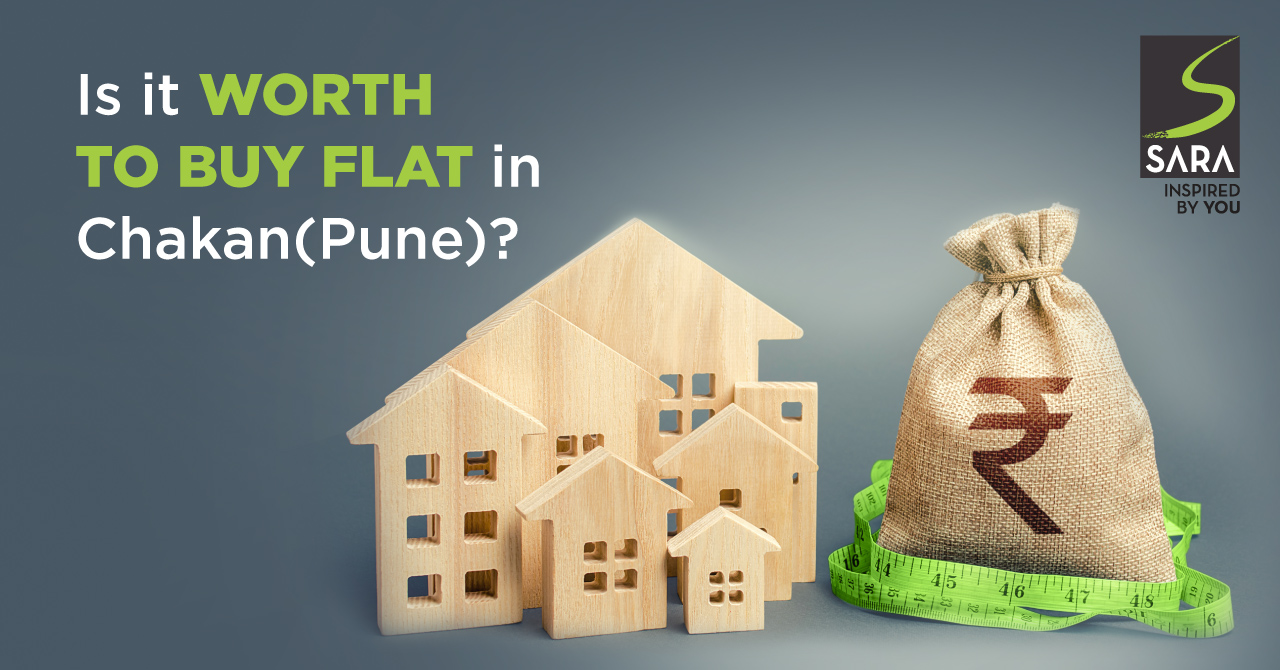 Chakan property market: An overview
Pune's famous industrial corridor in the city is now prospering with residential areas. Chakan is Pune's industrial and car centre. While the industrial sector being one of the most important aspects, the area is rapidly becoming urbanised as a result of growing industrialisation. It has grown to become one of Pune's most important automobile centres.
Chakan has seen significant growth in recent years, and the government is eager to develop the area as a modern town. As a result, it has approved several projects for the area. The quality of lifestyle in the city has also developed. The area's retail and hospitality sectors have grown along with its industrial and IT boom.
Buying a Property in Chakan?
Pune has seen a tremendous increase in the influx of the working population from outside due to the different IT majors and other multinational businesses (MNCs) that have established their base in the city. As a result, with Chakan being one of Pune's well-known neighborhoods, there has been an increased demand for residential units. Even if the cost of flats in Chakan is growing, there is still affordable housing like Sara City, Sara MetroVille, Zapan and many more for mid-and junior-level executives of various companies.
Many well-known areas of Pune, including Pimpri, Chinchwad, Pimple Gurav, Bhosari, and Sangvi, are part of the Chakan localities. The urban metropolis of Pimpri-Chinchwad Municipal Corporation includes all of these localities as well as a few others. In this location, there are a variety of projects ranging from affordable to exquisite.
Top 5 Reasons To Invest In Chakan, Pune
1. Social Infrastructure
Chakan's citizens have access to excellent social infrastructure. Vidya Valley International School, PK International School, and AMS School are some of Chakan's well-known schools. Anand Hospital, Core Hospital, and Chakan Criticare Hospital are a few of Chakan's top hospitals. Malls in Chakan, such as the Aishwarya Icon, cater to the locals' shopping needs. The Chakan fort, which was once the realm of Chhatrapati Shivaji, is another notable attraction in the vicinity.
Chakan is overseen by the Pune Metropolitan Regional Development Authority in terms of governance.
2. The Growth Drivers
Chakan, a significant industrial hub, is home to a Maharashtra Industrial Development Corporation-sponsored Special Economic Zone.
It also has production facilities for automakers such as Jaguar, Land Rover, Volkswagen, Bajaj Auto, and Mahindra & Mahindra.
Ikea, the world's largest furniture company, has recently announced a Rs 100 crore investment in a warehouse in Chakan.
3. Location:
Chakan is around 30 kilometres from the city's centre and is located on NH-50. It is located halfway between Pune and Nashik.
Chakan is connected to the rest of the city by the Talegaon-Chakan Road and the Chakan-Shikrapur Road. It also has excellent bus service thanks to the nearby Pimpri Bus Stand, Bhosari Bus Depot, and Pune Bus Stand.
Within an hour, you may reach Pune Airport, which is 28 kilometres away.
The Maharashtra Metro Rail Corporation is working to connect the Nashik Phata-Moshi and Moshi-Chakan routes to increase connectivity to the industrial area.
4. The Real Estate Market
Furthermore, Chakan has approximately 130 projects for sale in several industries.
Over the previous two years, the value of the real estate in Chakan has steadily increased. At the moment, apartments ranging in size from 700 to 1,200 sq. ft. are offered for Rs 2,700-4,200 per sq. ft. A 700 sq. ft. flat, for example, would cost approximately Rs 19 lakh.
Some of the popular projects in the area include:
Sara City
Zapan
Sara Sanskruti
Signature 28
Sara Business Center
Sara City Plaza
5. Tourism
Chakan is home to the Sangram Durga or Bhueekot Killa, which was originally Chhatrapati Shivaji's realm. The fort is built on level land with strong walls and turrets surrounding it. Most Indian forts, on the other hand, are generally built on steep, high territory.
Chakreshwar Temple is another noteworthy place. According to mythology, King Dasharatha granted his wife Kaikeyi three wishes after she assisted him in unsticking the wheel, which led to Rama's exile and the events of the Ramayana. Chakan holds a huge event named Khandobacha Urus in May (Yatra).
6. Employment hubs near Chakan
The Pimpri Chinchwad Bhosari industrial sector is around 15 kilometres from Chakan. A distance of about 2-3 kilometres separates Chakan Industrial Area from the rest of the city. It's around 22 kilometres to the Pradhikaran Industrial Zone. The nearest city is Khed City, which is around 25 kilometres distant.
Is Chakan, Pune Good For Commercial Property Investment?
Chakan's price patterns and rising demand suggest that the area offers good investment opportunities. With a lot of projects under construction, property rates are increasing rapidly. Furthermore, the neighbourhood is in close proximity to Pune's IT/ITES sector as well as its industrial zones. Many projects in Chakan have received official approval. As a result, the potential for infrastructural development exists. With all of these elements in mind, Chakan is a fantastic spot to invest.
Is Buying A Flat A Good Investment In Chakan,Pune?
Chakan, on the other hand, offers good investment potential due to its low cost and development plans.
If you work in the industrial sector and are looking to purchase a property, Chakan is a good option. Investors with a three- to four-year time horizon will find the location to be a secure bet.
Summary
According to online data, Chakan has approximately 130 projects for sale in various industries. Property values in Chakan have steadily increased over the last two years, making Chakan one of the top investment opportunities. After looking over all the prominent points, we guarantee that Chakan, Pune is an investment that is worth it by all means!