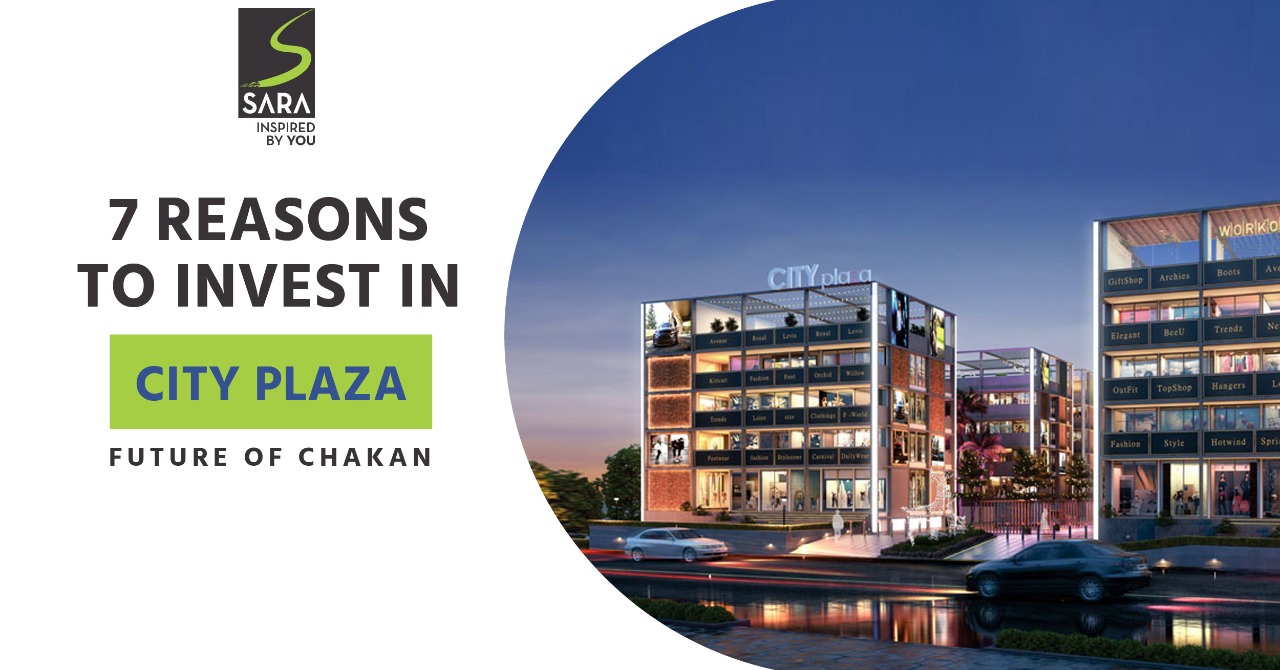 City Plaza Future of Chakan – Overview
Chakan is located in the northern parts of Pimpri Chinchwad and Pune City. It is a rapidly developing suburban area, located close to the industrial zones and the IT hubs of Pune. With easy connectivity to the city, the area has been in high demand for the past few years.
The future of Chakan's commercialisation lies in City Plaza, the first business hub in the vicinity. The initiation of this project was to develop Chakan and ensure the residents of the area experience the look and feel of a commercial hub in all its glory.
City Plaza is situated at Sara City, another lavish project by Sara Builders. The building needs no directions as it stands tall, visibly distinct from the other projects in the area. It is also in close proximity to Pune - Nashik highway, Talegaon and Ahmednagar ensuring you stop by to gaze at its beauty every time you travel these roads.
Why Invest in City Plaza Future of Chakan?
The future of Chakan's economisation lies in City Plaza. Imagine a building providing the areas .as well as neighbouring locations residents with all the amenities in one destination. The influx of customers walking into this plaza will be proof enough of its fame.
The decision of investing in this property will yield numerous benefits. Retail is and will always be a booming sector in this time and age. Adding real estate to your investment portfolio will guarantee profit.
Some people prefer residential properties over commercial ones and we have come up with why investing in commercial properties is not as scary as it has been projected to be.
Let us take a glance at some of the benefits of Investing City Plaza of Chakan:
1. Simple & Profitable Investment Option
As a beginner in the real estate game, it is suggested to keep things simple at start.Investing in a commercial property allows you to do just that. Fortunately, it is quite easy to lease out commercial properties such as shopping malls and retail outlets.
To add to your benefit, commercial real estate comes with less security deposit limits and termination rules.
2. Minimal Risks Involved
With every investment comes a certain amount of risk and they cannot be ignored completely. Selecting an option that is secure and offers good returns should be at the top of your list. With malls, the risk is minimal as the area's sole reason is to attract a large number of people who enjoy the products being sold.
On the other hand, when you invest in a house, your actions determine the risks involved as you are the sole stakeholder in this scenario.
3. Shopping malls are a trend
Visiting a shopping mall will never get old. From young kids to the older generation, every individual enjoys strolling around, shopping or even just taking in the aesthetic interiors of the mall. People prefer going to malls that provide them with everything under one roof, just like City Plaza will.
To cater to these demands, a plaza will always have the immense popularity among the crowds.
4. Portfolio Diversification
To diversify your investment portfolio, adding a retail project to it is the most apt decision you can take. These investments ensure your portfolio looks impressive.
With this said, you will also experience a different set of tenants, people from the food, banking, health and beauty services, automotive and technological industries. In addition, it will be an easy feat to acquire tenants since the options are threefold.
5. An Increase in Professional Ties
Commercial properties, unlike residential ones, are built on B2B connections. Grow and expand your reach in the business industry by forming such connections with like-minded businesses.
If you play your cards right, an investment in commercial properties will also lead to more popularity in your current business.
6. Quality Maintenance of Property
The hassles of renting out a flat to tenants and praying that the interiors are in one piece by the end of the lease is entirely forgotten while renting out commercial properties. The tenants, in the latter case, have to ensure the property is well maintained so that it adds to their customer base.
A huge amount of sale in malls is driven by the look and feel of the property.So, you can sleep peacefully at night knowing that no stone will be left unturned to ensure the place looks spotless and clean.
7. Sharing of Amenities
With residential investments, the entire cost of setting the place up lies on your shoulders. The return of investment is based on the quality used to make the property look beautiful and appalling to the eye.
On the other hand, when it comes to commercial properties, the responsibility does not lie solely on your shoulders. Once rented out, the shop owners will ensure that the set-up is done according to standard.
Summary
Investing in commercial projects will yield major benefits like we've mentioned above. If you want to secure your hard-earned money, invest in City Plaza as they tick all the above benefits and we ensure there'll be many more coming your way.
Apart from a tangible asset added to your name, you get a high ROI and monthly rentals with reduced stress and tension.
Make The Call!
Build Your Business Emporium Today!
To sum it up, the advantages are laid down in front of you, the choice is yours.
Add 'City Plaza, Future of Chakan' to make your future a brighter and successful one